While we may be groaning at the ever earlier arrival of Christmas products in the shops, it's bang on time to begin planning your Christmas email program. That out-of-place looking chocolate selection box and curiously fake snow actually serve as a great reminder to get your own Christmas plans underway.
Christmas is obviously a huge date on the calendar for most businesses. As we head into the festive depths of winter, we need all the help we can get tracking down the perfect gifts for friends and family. And what better way to update customers about your festive offers than emailing them?
It's true that as Christmas approaches, email volumes take a sharp uptick, so it's more important than ever to get your campaigns in top-notch condition and leave a lasting impression with your subscribers.
If you've made some headway into planning your Christmas email program already, that's fantastic, you can't plan it too early! If you've just starting thinking about it, or if this blog post has hit you as a bit of a 'rude awakening', don't panic. There's still plenty of time to everything in order so your email marketing program goes off without a hitch.
So, don your Santa hat, get some mulled wine on the go and join us for part one of The Campaignmaster Guide to Christmas. (Does not contain Christmas songs. We promise.)
Plan Your Email Program
First things first. Before you start segmenting your database or getting to work on a design, get a good old fashioned pen and paper and plan your email program in full.
Think about what your goals are, who you're targeting, and how you're going to measure the results of your campaigns.
It's generally best to build a series of campaigns that run all the way up to Christmas. A 'one-off' email will struggle to gain subscribers' attention, whereas a solid series of helpful reminders will ensure that subscribers keep you in mind.
Don't forget to take a look at your previous year's stats, as you'll learn an awful lot from them. What worked? What didn't? What can you do differently?
Clean Your Data
When it comes to email lists, quality over quantity will win out every time. A list of 500 subscribers who are opted-in and actively engage with your emails can easily outperform a list of thousands that have been languishing in an old database.
However, that's not to say that you don't want to leverage all the email addresses you have available to you. If you do have an older list that you have not sent to in a while it's best to take some precautions first.
While that list has been gathering dust, some of the addresses it contains will have expired. Sending a large amount of campaigns to these addresses will result in them bouncing. An excessive amount of bouncing will cause your deliverability to take a dive, and can effect the delivery of messages that are sent to valid addresses.
This can be fixed over long period of time, but could cause you a lot of harm that you don't need in the run up to Christmas.
If you are thinking of sending to an older list, you'll want to check out some list cleaning services such as BriteVerify, that will remove bouncing addresses for you.
Make a List, and Check It Twice (Sorry…)
This is where your email plan will come in handy. Targeting the right subscribers with relevant in content is key if you want the best results possible from your email campaign.
Lets say for example that your running a florist (congratulations!). Your primary goal is to get previous customers to re-order and your secondary goal is to drive new business.
Primary Goal
One way you could go about this is to your segment existing customers from your prospective customers and send them a campaign with suggestions based on their previous purchases.
Secondary Goal
Once you have your prospective customer segment, you can then target them with an introductory campaign with a special discount.
Create as many database segments as you see fit. The more targeted and relevant your campaigns, the better they will perform.
Make it Personal
People are only interested in advertisements if they contain something that is relevant to them. Unlike many other forms of advertising, such as print or TV, this is where email really shines. And the reason behind this is personalisation.
Using the data you've collected from your customers (e.g. data from a sign-up form, previous purchases) you can send a bulk email which automatically populates itself with products and offers based on each subscribers interests.
This approach will serve you far better than an email 'blast' (we hate this term!) with the same content for everyone.
Who are you again?
As we covered earlier, we totally understand if you have an older list that you want to breathe new life into.
After getting your list cleaned, you'll be left with a nice list of active addresses. However, they still haven't heard from you in a while. To reduce the risk of them treating your message as spam, it's a good idea to include a brief reminder at the top of your email stating who you are, why you're emailing and how the subscriber ended up on your list.
For example:
"Hello there, we're Easy Electricals. You signed up to our in-store newsletter a while ago and we thought you'd like to see what we've got on offer this Christmas".
You can even go one step further by providing an 'Add to Safe Senders' link so subscribers can add you to their contacts list, keeping the spam folder at bay. Simply insert a link to our Add to Senders website, where subscribers can get videos and step by step instructions on how to add you to their contacts.
Don't Forget to Send a Card!
While you're knee-deep in your Christmas marketing plan, don't forget that it's not all about you!
Sending a thoughtful, non-sales based e-card is a great way to show the friendly face of your business. Not only that, but Christmas is the perfect time for fun too. Feel free to design funny, unconventional emails with wild designs. It's the perfect time to experiment.
It's also a good opportunity to include other bits of helpful information such as your holiday opening hours.
Get Responsive with Mobile Templates
Responsive design for mobile has been the hot topic of the email industry for the last few years. And with 47% of all emails being opened on a mobile device, it's easy to see why.
Ensuring that a subscriber can perceive, understand and navigate a campaign, regardless of the device it's being viewed on, should be high on your priorities.
We've put some great examples of responsive emails over on our Pinterest page.
Make Yourself Stand Out
One of the biggest hurdles to overcome in a Christmas email program is standing out. It's not just you ramping up for the big day, everyone else is too.
We've already covered making your Christmas email program a series of emails, rather than a one-off email, but what else can you do to leave a lasting impression?
This is where your creative genius comes in. You're not in charge of marketing solely because of that pretty face of yours! You know your customers better than anyone, and you also have a good idea what the competition are up to. How you can you turn it on its head? How can you do something really different?
Office supplier Officemax run a yearly 'Elf Yourself' campaign, where subscribers can create a short elf-y animation using photos of friends and family to share. It's a great idea, and goes viral every time they run it. Sure, this would be a complex example to execute, but you get the idea.
Provide an Incentive
With all these promotional emails landing in their inbox, subscribers are going to be hunting for the best deals possible, and this is where incentives can give you an extra edge.
Your incentive can be anything that fits into your business model, whether it's free delivery or 20% off an order, it's a good idea to add that little extra something to make your campaign more appealing.
Sport supplement supplier MyProtein send out a brilliant mystery gift code incentive that can be redeemed upon placing an order. What could be more enticing than a mystery?
Stay Focused
Regular readers of our blog will know that we're big advocates of the KISS principle. When it comes to email marketing, keeping your program simple and clear is the key to success. Don't go overboard with your promotions.
A good strategy is to set your offers and run them over the entire Christmas period. Coupling this with a slow and steady series of campaigns will re-enforce what you have to offer subscribers.
Running a huge variety of offers and promotions will only serve to confuse and deter subscribers. Not to mention making things difficult for yourself!
Make it Social
How do you buy a gift for the person who has everything? With help from friends of course!
When I'm truly stumped for gift ideas, I'll ask friends or colleagues for suggestions. Within no time I'll have that perfect gift suggestion. A far better alternative than popping down the 'thoughtless gifts aisle' in your local supermarket.
This scenario is perfect for replicating online. By placing social media and 'forward to a friend' links inside your campaign it's a piece of cake for a subscriber to share recommendations with their friends.
Ok, by now you're no doubt feeling the effects of that mulled wine so we'll leave things here until part 2 of The Campaignmaster Guide to Christmas. Join us next time for tips on cart abandonment, behavioural targeting, event invites, A/B testing and more!
With Christmas still a reasonable distance away, there's still time to put the finishing touches on your Christmas email plan.
In part one of our Guide to Christmas we covered the essentials including planning, list cleaning, reminders and sharing.
In part two we're delving a little deeper and into more advanced techniques. Behavioural Targeting, Cart Abandonment and Event Management are perfect additions for anyone looking to beef up their festive emailing arsenal.
Keep Growing Your List
While a lot of your holiday email planning will involve what to send existing subscribers, you shouldn't forget about growing your database too. Bringing in new subscribers will not only help you over Christmas, but well into the future too.
Pop-overs – Pop-overs have been growing in popularity of late. Love 'em or hate 'em, they get results. Pop-overs are website overlays/lightboxes that appear over the top of a webpage, inviting visitors to sign-up to an email newsletter.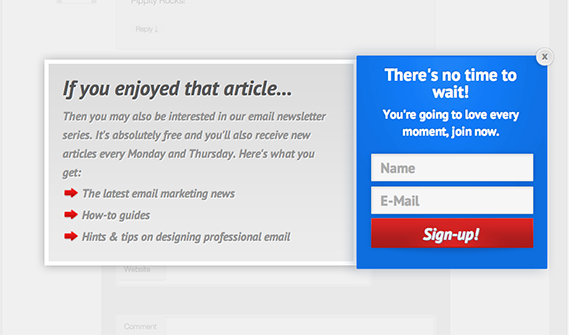 They range from subtle – gently popping into view when scrolling down a page – to extreme – taking over a whole page until you take action.
In-store – Got a retail presence? Use it! I was recently approached by a member of staff in Next who asked for my email addresses in return for a 10% discount. As a result they have a new subscriber, you've got this handy tip, and I've got a great pair of trousers. Everyone's a winner.
Behavioural Targeting
The secret behind email marketing is to send subscribers the right email at the right time, and this is the core concept of Behavioural Targeting.
By tracking a customer's behaviour, you can make a pretty accurate prediction on what to send them.
For example, if you notice that a customer only looks at the electrical section of your website, you can automatically send them more electrical products in the future.
It's also worth thinking about setting up Triggered Campaigns, which are automatically sent when a customer completes a specific action. For example, two days after a subscriber clicks on a certain product in one of your campaigns, you can send them another campaign that focuses purely on that product.
Cart Abandonment
Did you know that over 67% of e-commerce shopping carts are abandoned before checkout? Shoppers can be easily distracted while browsing your website, so it's important to focus on getting them back.
Cart abandonment emails are an effective way to gently remind customers they still need to checkout.
By linking your CRM database to your email service provider (something we offer for a wide range of CRM systems) you can automatically send cart abandonment emails after a customer has left your website.
To further persuade customers to complete the checkout process, some retailers also add incentives to repeat cart abandonment emails. A 10% discount or a free gift may be just the thing to grab a customer's attention.
Throwing a Party?
E-invites are a very efficient way to notify people about special events, and can serve a dual purpose as a 'one-click' RSVP method too.
'Accept' & 'Decline' buttons are great calls-to-action to end an e-invite with, as you can collect real-time reporting on RSVP numbers. You can even setup an automatic notification email to confirm your guest's attendance.
By including RSVP buttons directly inside an invite email, you'll increase responses to your invite. Guests won't need to log into another website or service in order to provide a response, all it takes is one click.
You can even request additional information from your guests by linking your RSVP buttons off to a web form. If you need to know your guests dietary requirements or contact numbers, they can provide them with ease.
Transactional Emails
Transactional emails are highly valued by customers, but are often neglected by businesses.
Customers love them as they contain important and pertinent information: shipping confirmations, booking details, account balances etc… and contain little in the way of promotional content. They are fully customer focused.
As transactional emails are sent after a deal has been made with a customer, businesses are often lax about their content. Even now, I still get a few transactional emails that are simple text-based affairs, offering very basic information.
Updating your transactional email template is a great way to improve customer experience, especially around Christmas. Don't forget to include helpful information to assist customers with future purchases such as order deadlines, delivery deadlines, delivery schedules etc…
You can even use a transactional email as a cross-sell opportunity by suggesting similar products a customer may be interested in. Don't over do it though, remember that a transactional email is about the customer and not yourself.
Split Testing
A more general tip than a Christmas tip, but it's vital that you know about split testing.
It's easy to fall into the trap of 'going with your gut' and thinking that you've made the best email in the world. However, unless you've split tested that email and have solid data to backup your claim, you don't know nothin'!
Just like regular email marketing, always run a selection of tests on your campaign designs. Try alternating call-to-action colours, placements, products etc… to small test groups in your mailing list.
Results can be surprising.
Don't Forget to Send a Card!
While you're knee-deep in your Christmas marketing plan, don't forget that it's not all about you!
Sending a thoughtful, non-sales based e-card is a great way to show the friendly face of your business. Not only that, but Christmas is the perfect time for fun too. Feel free to design funny, unconventional emails with wild designs. It's the perfect time to experiment.
It's also a good opportunity to include other bits of helpful information such as your holiday opening hours.
Start the Sales with a Scheduled Campaign
Last year I was slightly taken back when I spotted a family friend hitting the sales on her phone.
Boxing Day sale? Pffft. Try Christmas Day sale. The rise of e-commerce means websites are always open for business, especially on Christmas day. In 2012, there were 107 million visits to UK retail websites, up 71% from 2011.
But just because your website's working overtime, doesn't mean you have to. Scheduled campaigns are the perfect way to send a 'Sale on now' email while you're tucking into pigs in blankets (better than any sale).
Find Your Frequency Sweet Spot
With all the increased buying activity at the end of the year, your email sends will understandably increase. But watch out, because so will everyone else's.
As subscriber's inboxes begin filling up with seasonal emails, you don't want to make yourself a repeat offender. Send too many emails and you'll end up being ignored, or worse, unsubscribed from. So, how often should you send?
As we covered in a recent blog post there's no 'silver bullet' for email frequency, it depends heavily on own circumstances i.e. your industry, content, subscribers etc…
Split-testing email frequency on small test groups will help you with you find your sweet-spot.
Need Inspiration?
We all get it, writers block, inspiration block, whatever you call it, it can be a real pain. Especially when you're under a tight deadline to get things up and running. It can also be difficult to stand out from the competition when you don't know what they're planning.
Thankfully you've already got several years worth of inspiration sitting right under your nose. A quick jump back in your personal email account to November/December 2012 will reveal a glut of Christmas emails from all and sundry.
A veritable goldmine of festive emails are now at your disposal, and if you're an email hoarder like me, you'll have several years worth to keep you occupied.
Go Nuclear
We often mention our affinity for keeping things simple, but we recognise that simple isn't for everyone. If you're an enterprise business with a lot of resources, the 'nuclear' option may be for you.
By linking your CRM database with your email service provider, you can setup a whole heap of automation to give you an all-singing-all-dancing, mother of all email programs.
Behavioural targeting, cart abandonment, scheduled sends, self-updating lists, automated emails, notifications and more can be linked together to create a behemoth of an email strategy. Granted, the nuclear option may feel like a big move, with a lot to setup, but once you're up and running the results will speak for themselves.