Not so long ago, the world of email marketing was quite a different place.
Email clients were pretty much dumbed down versions of web browsers, meaning email could bring you a taste of the web, but not the full thing. For example, a website would let you watch videos, view image galleries and play games, while email could not.
Fast-forward to today and there are swathes of new email clients that are much more prepared for the task. Things we could only dream of a few years ago have been made reality, and a whole new level of engaging with customers has come about with it.
With non-interactive emails so ingrained in everyday life, sending an email with that little something extra is sure to get you noticed. Below are some examples of email interactivity that have really caught our eye.
If you'd like to add a little extra magic to your emails with interactivity our design team are ready and raring to go.
Rollover Image
Rollover images are a perfect way to show multiple views of a product without taking up any additional space. By hovering your mouse over the image below, you'll see a secondary view of it.
Uses:
Multiple product views, show/hide answers in quiz, reveal advent calendar windows
Source: Fresh Inbox
Mini Image Gallery
If you're hankering more image fun, this interactive gallery should tickle your fancy. Rather than being limited to  two images in a rollover this mini gallery will give you four images to play with.
Uses:
Show multiple photos of properties, event venues, products, demonstrations
Source: Fresh Inbox
Embedded Video
Embedded video was one of the first topics we covered when launching the Campaignmaster blog, and is still a rarity in emails.
You may have seen pseudo videos before (an image of a video that links off to a webpage), but embeddable video allows subscribers to play the video from directly within your email.
Uses:
Product demos, event previews/catch-up, news, advertisements, anything!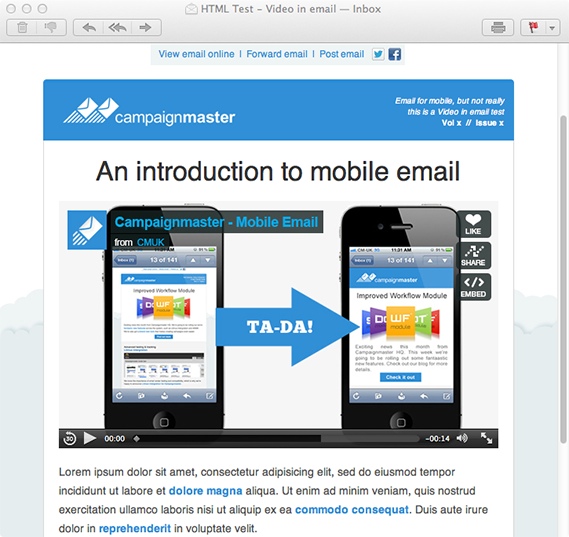 Source: Campaignmaster
Content Carousel
This recent email from hardware retailer B&Q contained a very impressive interactive content carousel. This contained not just images, but also text and bulletproof buttons. The end result being a very swish email with advanced interactivity that's rarely seen in the inbox.
Uses:
Showcase different offers, display multiple articles