With all the recent love we've been giving Business to Business (B2B), we thought we'd switch on over to Business to Consumer (B2C) email.
Unlike their B2B counterparts, B2C purchases can be near on instant, they usually involve one person, are low risk and lower cost. Someone could buy a 65p packet of gum, or a £15 t-shirt. Both of which are simple to return if the customer changes their mind.
As B2C products tend to be high impulse & low risk, their emails campaigns tend to have a lot more creativity around them in order to tempt customers into a quick purchase. (Personally I'd love to see a bit of a B2B creativity revolution as I feel there's a lot to be gained).
These are some of the more interesting B2C techniques we've seen.
Discount After Email Signup
In order to tempt customers onto your email list, you need to give them a great reason to do so. And what better way than offering money off their next order?
This 'thank you' page from The Body Shop offers 25% off a purchase after signing up. It also gives good information on what new subscribers can expect from future emails. There's even a nice little referral link to help grow their list further.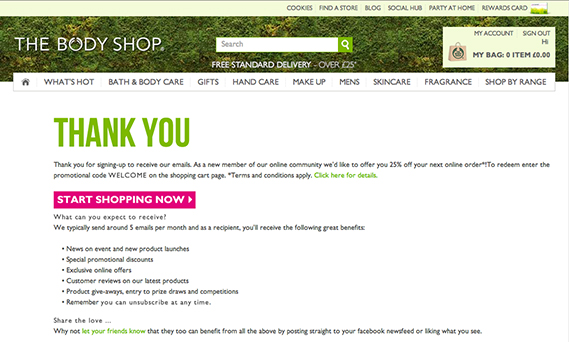 Automated Reminder on Offer
Sometimes a great offer isn't quite enough to make you stick around in a customer's mind. This 'reminder' function from Prezzo lets a customer select when to receive an additional email about their offer. A very clever bit of automation that's easy to setup.
Unique Voucher Codes, Track Engagement
One of the best things about digital marketing is being able to measure engagement. This email from Pizza Hut uses a unique voucher code, letting a them know if it has been used online, over the phone or via an app. All it takes is a simple bit of personalisation, and you're done!

Countdown Timer
This sale email from British Airways uses a live countdown timer to create urgency.
The clever thing about this email is that the countdown timer is running in real time. While the ability to have your own countdown timer has been around for a while, it's still a surprisingly little-used technique. Also, like Prezzo, they have an automated 'remind me' function.
TIP: If you opened the email after the sale finished, there was no fallback offer. It would have been nice to throw in a token offer to stop customers feeling left out.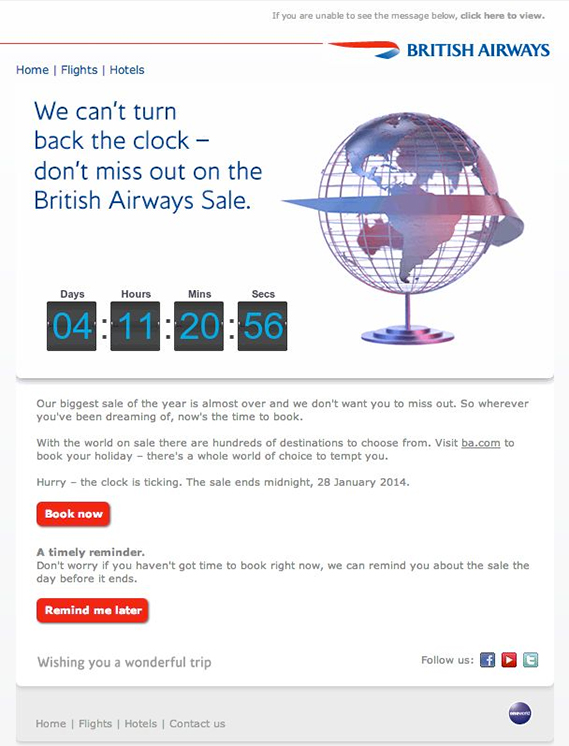 Anniversary Gift
Anniversary emails are a great way to reward customer loyalty.
The two examples below, Ocado & Subway, both send annual gifts to their customers. One on anniversary of sign-up, and another on the subscriber's birthday. Both nice little treats that are always well received.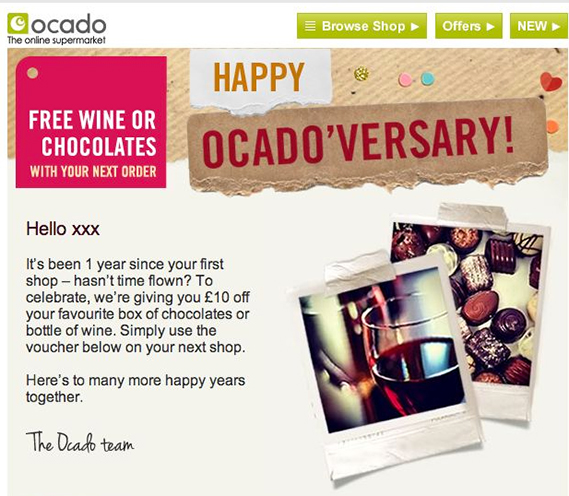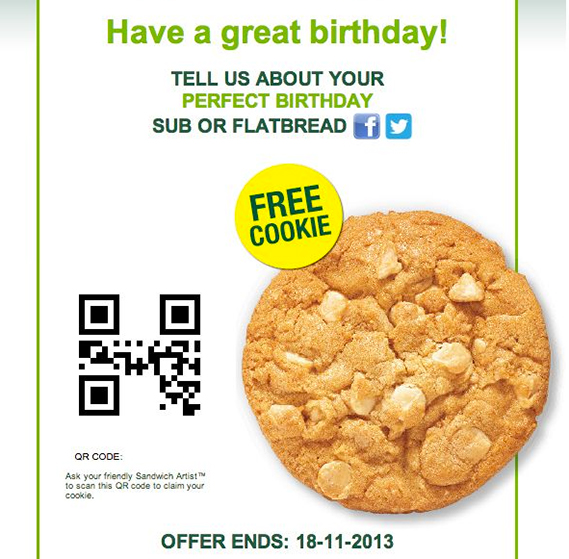 Mystery Gift
One of the best promotional email offers I've seen is from MyProtein.
This example uses a free gift, but I've also seen ones using varying percentages off a purchase.
This trick here is that it's a MYSTERY. What could it be?! The intrigue (for me at least) is almost irresistible. In order to see what it is, you need to go to the website, put a tenner's worth of stuff in your basket and go to check out with your code.
By the time you see what your gift is, you're one click away from buying. You don't get more impulse than that. How fiendishly clever!
To maximise the take up on the offer, if your code goes unused, MyProtein will send a last ditch effort email telling you exactly what the free gift/discount is.