We're always thinking of new ways to increase your deliverability and make things easier for your subscribers. As a result of this we're proud to introduce our new website and subscriber tool, AddtoSenders.com.
Add to Senders provides your subscribers with videos and step-by-step instructions on how to add you to their contact list, no matter which email client they're using.
Being added to a subscriber's contact list is a great way of improving deliverability. Incoming messages from known contacts are treated as 'safe senders' and will prevent spam filters from blocking your email, result!
Add to Senders makes it easier than ever to educate subscribers on how to add you to their contact list, from Outlook to Lotus Notes, we've got them covered.
How to Include Add to Senders in Your Email Sends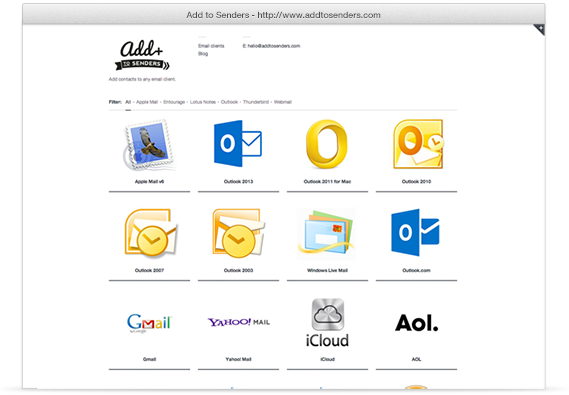 We recommend that all of your email campaigns include an 'add to safe senders' link somewhere near the top of your content. Below you can see an example where we've placed an 'add to safe senders' link at the top of an email, along with the 'view online' link.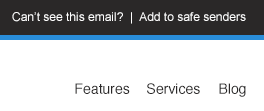 Once you've placed your text, all you need to do is add the following link to it:
The Add to Senders homepage gives clear instructions on how to select the correct email client, and even suggests alternate versions of an email client if subscribers accidentally choose the wrong one.
Add to Senders also offers a filter system, which makes things a bit easier for subscribers to find their email client. To default to the email client filter, use the following link:
www.addtosenders.com/portfolio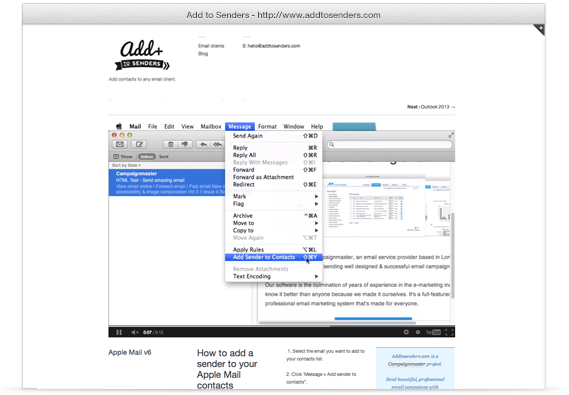 Add to Senders is a simple and powerful education resource for subscribers who are unsure of how to add senders to their contact list.
We think this is a fantastic tool for marketers and subscribers alike. We recommend adding it to your campaigns as soon as possible to help increase your deliverability.
Add to Senders provides contact instructions for the following email clients:
Apple Mail
Outlook 2013
Outlook 2011 for Mac
Outlook 2010
Outlook 2007
Outlook 2003
Windows Live Mail
Outlook.com
Gmail
Yahoo! Mail
iCloud
AOL
Entourage 2008
Thunderbird (Windows & Mac)
Lotus Notes