Valentine's day is a hallmark date in every marketing calendar. With couples across the globe splashing out to celebrate, it's a critical time to show what you have on offer, and email is the perfect way to do just that.
To help get your imagination kick-started we've put together five emails from different sectors (grocery retail, fashion retail, events, dining, and technology) to see how they've shot cupid's arrow into their designs. This blog article will show you how you can to tie yourself into Valentine's Day, even if you don't sell any traditional Valentine's products.
myWaitrose
Kicking things off, we've got the myWaitrose reward card newsletter.
Waitrose are in a great position for Valentine's Day, as they sell very traditional products they can push for that special occasion. They begin with £5 off flowers with free delivery chucked in. Beneath this, they have added in a more generic gifts section if flowers are a bit too cliché for your liking!
Further on down the email, Waitrose have added in some value for subscribers who don't want to make a purchase. This comes in the form of two free recipes, with one from Heston Blumenthal (Chocolate cod anyone?).
To top things off nicely it's responsive too, so it looks great on mobile.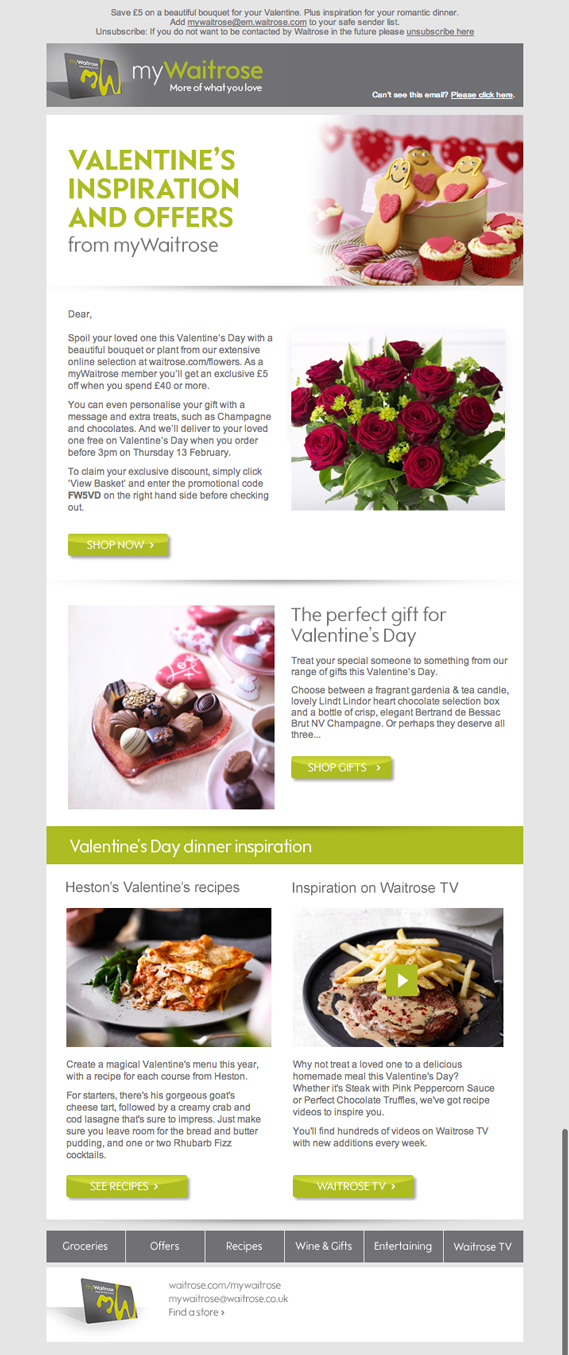 Ted Baker
Next up, we've got fashion retailer Ted Baker.
Unlike Waitrose, Ted Baker don't have any specific products tied to Valentine's Day, so have rather cleverly come up with a series of digital e-cards that their subscribers can send. Part genius really, as they're getting subscribers to do additional marketing for them by sharing their cards.
This email was sent on Valentine's Day 2013, so unfortunately the e-cards service is no longer active. Would have been good to see what they came up with!
Beneath this, there's a more traditional discount offer, followed by a link to their personalised gifts page.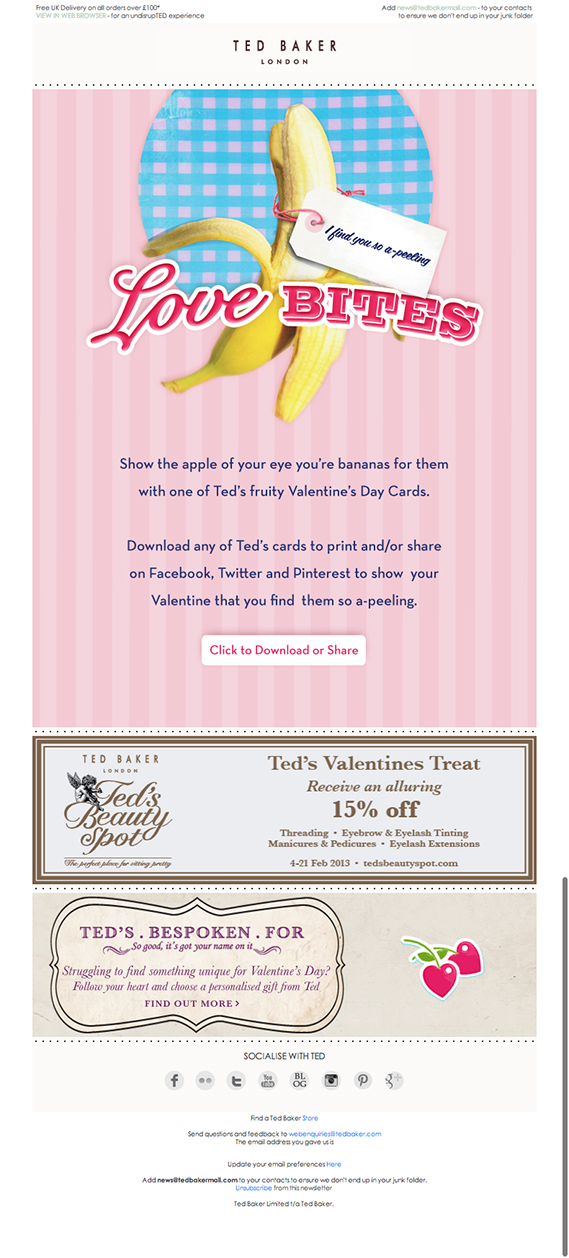 Yplan
Events app Yplan have taken a different tact to Valentine's with their 'Anti-Valentine's' message.
It'll be a welcome relief from all the 'flowers & chocolates' emails that'll be swimming around in your inbox. It's also sure to gain some better traction for any singletons, plus you're never alone in a game of Wiff Waff are you?
I'm quite fond of Anti-Valentine's emails as they tend to be a bit more playful and original. If you've received any good ones, be sure to share them with us in the comments below.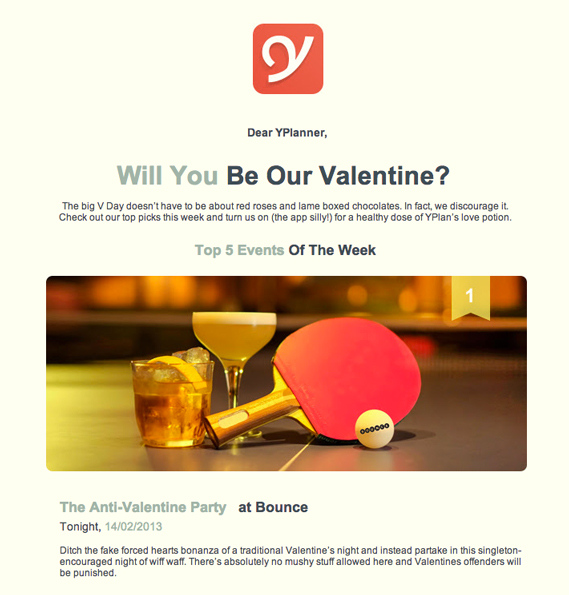 Pizza Express
As a restaurant, Pizza Express' offerings fit snugly into the Valentine's category. Their £19.95 set menu offers a slice of love for dough-eyed darlings and will certainly be more fulfilling than these cheesy puns…
The email has a nice modern look, with use of pastel colours, sharp edges and plenty of contrast. The main call-to-action links off to their online booking service, so if subscribers are tempted by the offer they can snap it up straight away, a clever move! Another nice addition is the use of a secondary offer of a 25% discount for customers who aren't quite ready to do the whole Valentine's thing.
Surprisingly there's no mobile optimisation here (or heart-shaped pizzas!), something that would surely work wonders for this type of campaign.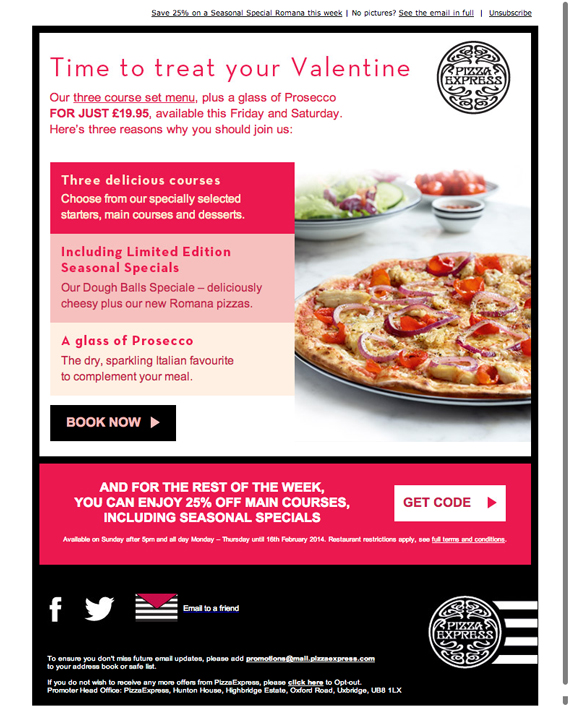 Apple
Finally we have Apple who, like Yplan and Ted Baker, don't have any obvious Valentine's Day link to their products.
But, as you can see below, all it takes is a nice bit of image work, some red text and hey-presto, you've got yourself a Valentine's Day email! Using these tiny tricks puts a totally different spin on what is otherwise, just an advert for an iPad.
Further on down, Apple use their traditionally quirky copy to suggest an iPod as a gift, and even provide a thoughtful link off to their free engraving service.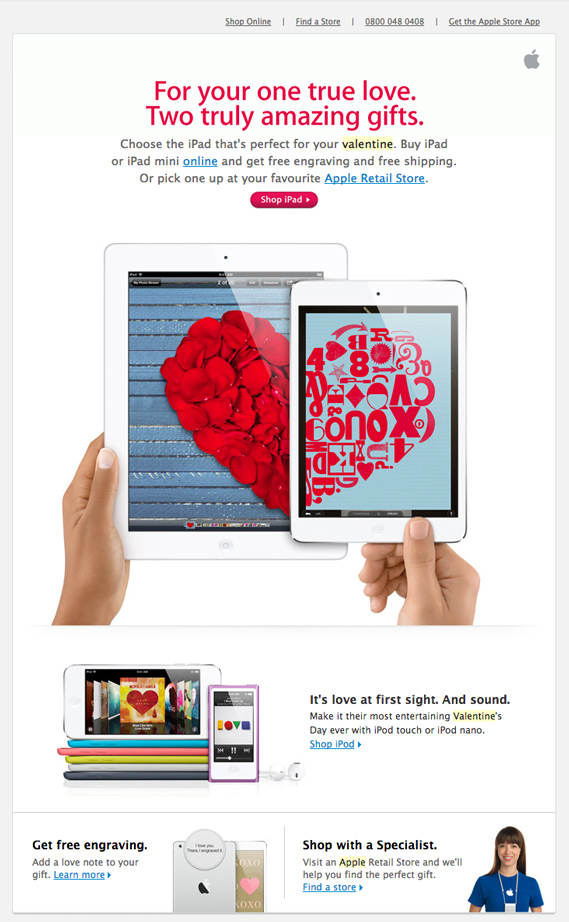 Got Any Good Valentine's Emails to Share?
These are just a handful of examples of good Valentine's email that we found in our inbox, but we'd love to know if you've seen any clever offers or designs. Let us know in the comments below.