If you've got a big event coming up, one of your main priorities is going to be filling your guest list. It takes a lot of effort to put an event together, so you'll want to make sure it's a sell-out success.
Thankfully, email can help make this process quicker than you think.
In this case study we're going to take a look at the invite process we used when marketing our Campaignmaster Inbox 2014 email event back in May. The event was a big success, with tickets selling out in record time – so how did we do it?
The Process
The most frequent email invite mistake I see is businesses only sending one invite per event. This might be fine for smaller informal events, but for a large event you're going to want something with a little more oomph.
While the first invite for an event usually gets the most responses, it can easily be overlooked or deemed irrelevant by an invitee.
The main crux of our invite process was to send out multiple invite emails, one week apart. To appeal to as many people as possible, we changed the topic with every send.
As soon as an invitee RSVP'd they were removed from the invite series and added into a different 'warm-up & remind' series of emails for attendees. Before you start your own event program, make sure you've got your marketing plan together.
The Content
Things move pretty quickly when planning an event, so our email is fast to edit, flexible and responsive (naturally!).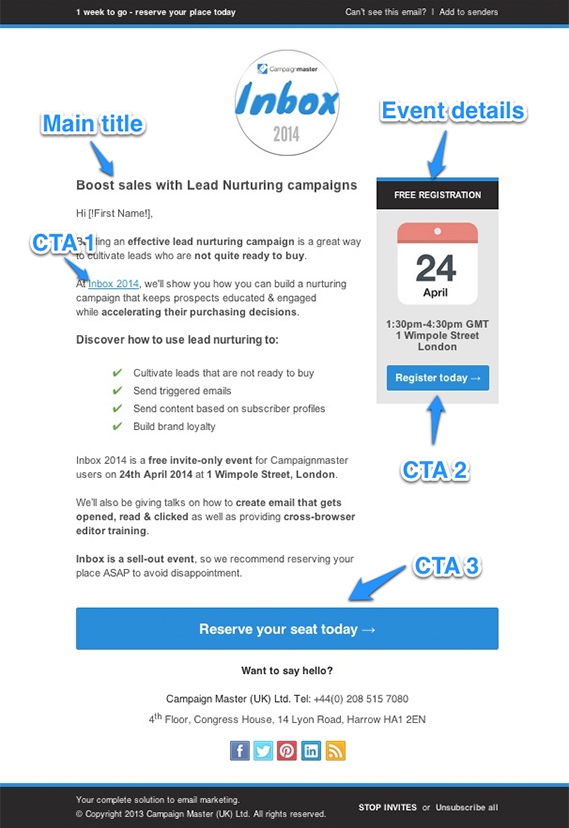 Main Title
We put together 6 invite topics that focused on different aspects of the event. This way, we had more chance of piquing a subscriber's specific interest.
We also used several different tactics for our text to make it easy to scan, including:
Using subtitles
Writing short tweet-length paragraphs
Bullet list of reasons to attend
Using bold highlights
CTA 1
On receiving this email, most people will want to find out more about Inbox 2014 before hitting the 'register today' button.
To make this transition easier we put the same registration link on the 'Inbox 2014' email text. This links off to the same page as the 'Register today' button, but does not feel like a commitment to register immediately.
It's important to let invitees register in as few steps as possible to stop them getting distracted. Having a landing page that contains both your event info and RSVP form reduces clicks and gives invitees everything they need to make their decision on whether to attend.
Event Details & CTA 2
The main event details remained static in every invite. The 'free registration' box contains the date, time and location of the event.
The event details box contains a nice blue call-to-action button enticing invitees to 'Register today'.
CTA 3
As a last-ditch attempt to capture our invitees attention, we add a final huge call-to-action right at the bottom of our email:
Want to send your own sell-out event emails? We'd love to help. Get in touch!
The Results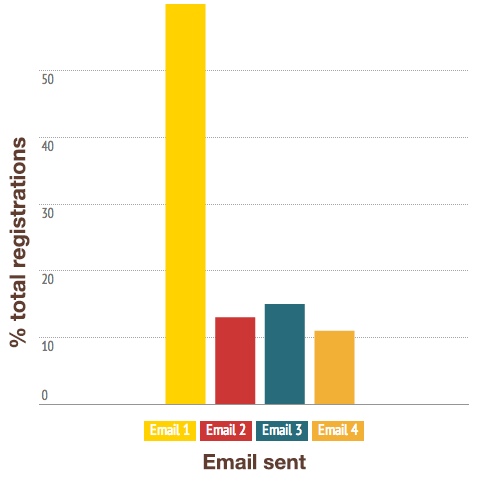 % Of Total Registrations per Email
Invite 1 – 60%
Invite 2 – 13%
Invite 3 – 15%
Invite 4 – 11%
CTA Usage
CTA 1: 14%
CTA 2: 55%
CTA 3: 31%
As you can see from the results above, the first email netted a whopping 60% of total sign-ups – the biggest result of the series. This isn't that much of a shock. As it's the first time Inbox 2014 was announced interest will of course be at it's highest. However, what comes next is a bit more intriguing.
Over the following three weeks, we filled the remaining 40% of spaces at Inbox 2014. That's nearly half of all available space at the event sold by sending just three emails. If you only send one email invite per event, you'll definitely want to reconsider.
"But wait, didn't you plan six emails?" – Yep, we sure did. Our final two emails were scrapped as spaces for Inbox 2014 sold out two whole weeks before we expected.
I know "more email = more attendees" may sound obvious to some, but you'd be surprised at the amount of business who don't do this. If you're concerned about losing subscribers who don't wish to attend, it's easy to add a seperate unsubscribe purely for that event.
It's also worth noting that while we shared our event via social and other channels, nothing caused anywhere near as many sign-ups as email.