Did you know it was World Emoji day recently?  Truthfully, nor did I but it got me thinking.  Emoji's are small digital images or icons used to express emotion in electronic communications.
In 2015, the decision for Oxford Dictionaries to select an emoji as the word of the year because it was the most used emoji globally in 2015, shows the power that these little icons have.  The emoji in question was the 'Tear of joy' emoji (see below).
According to the BBC, 2015 was the year of the emoji. They have landed a teenage boy in a police cell and prompted Vladimir Putin's wrath in Russia.  So, is the use of emoji's the birth of a new language?  Some argue that emoji's are in fact becoming the fastest new 'language' of the modern digital age as they are a form of expression and one which can cross language barriers.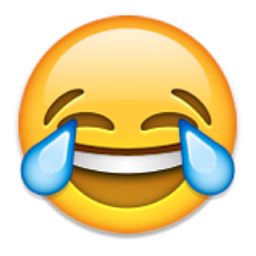 According to a report by Experian, brands using emoji's in subject lines can see a 45% increase in their unique open rates.  With restricted character limits for subject lines on mobile devices, (maximum of 50 characters), an emoji will only take up one character, yet communicate a feeling or emotion really well.
You should always be aware of your target audience when using emoji's.  For example, if my bank were to email me with a smiley face emoji, telling me my interest rate is going to be increased with an emoji of a wad of £20 bills, (yes they have that emoji too!), then I would be concerned that Barclays had been hacked!  However, my favourite bar sending a martini glass emoji on a Friday night with 'Happy Hour/Half Price Drinks' in the subject line, would definitely peak my interest and add a bit of fun.
Using emoji's in subject lines can help your message stand out amongst the plethora of emails in your inbox.  Take a look at some of the examples below where different industries such as Food, Retail and Travel have used emoji's effectively in their subject lines: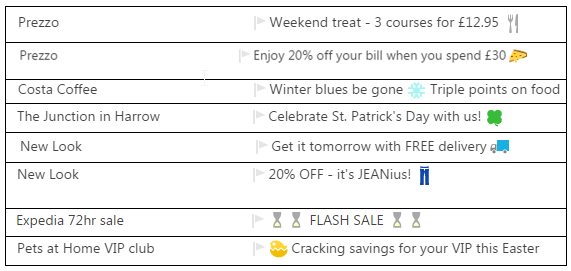 Now, how do emoji's render across different devices and email client versions?
Emoji's are supported in the following:
Outlook 2007/2010/2013
Outlook.com (although some are not rendered as expected)
iPhone/iPad (although some are not rendered as expected)
Apple Mail
Yahoo Mail
Gmail
Windows Mail
Android Mail
Here are some visual examples of rendering the following emoji to text: 🏆
Email Client

Display

Outlook 2010
Outlook 2013
Gmail
iPhone 6 – Mail App
So to summarise my top 2 tips for using emoji's in email marketing subject lines are:
Make sure they are relevant and add value
Don't overuse them as your email may look like spam and end up in spam too!
Use Campaignmaster's split testing feature to see if your subject lines perform better with or without the use of emoji's.
And the best bit of all?  No apps or coding required. You can simply copy and paste your emoji straight into your subject line.
We like this resource a lot Get Emoji.
I know it's a bit early in the year for Christmas songs but please enjoy the emoji song below!