With Google I/O 2018, we were flooded with a sea of new features and updates coming not only to Android but also Gmail. After over five years since the last major upgrade, Gmail has received not only a face lift, but also a boost in functionality and security which is rolling out to over 1.2 billion users worldwide. So, in this blog we will take a closer look at all the new features and how they relate to email marketing gurus.
Unsubscribe Me
One of the biggest, and most important, changes to Gmail is the new "unsubscribe me" mechanism making its way to the Gmail mobile app. The app, which comes pre-installed on nearly all Android smartphones, now proactively suggests unsubscribes based on how the user interacts with the emails they receive. The feature provides an easy way for recipients to manage their email subscriptions and reduce the number of incoming messages that they do not interact with on regular basis. Google hopes that this new feature will help users spend less time managing their inboxes allowing them to focus on emails that are important to them.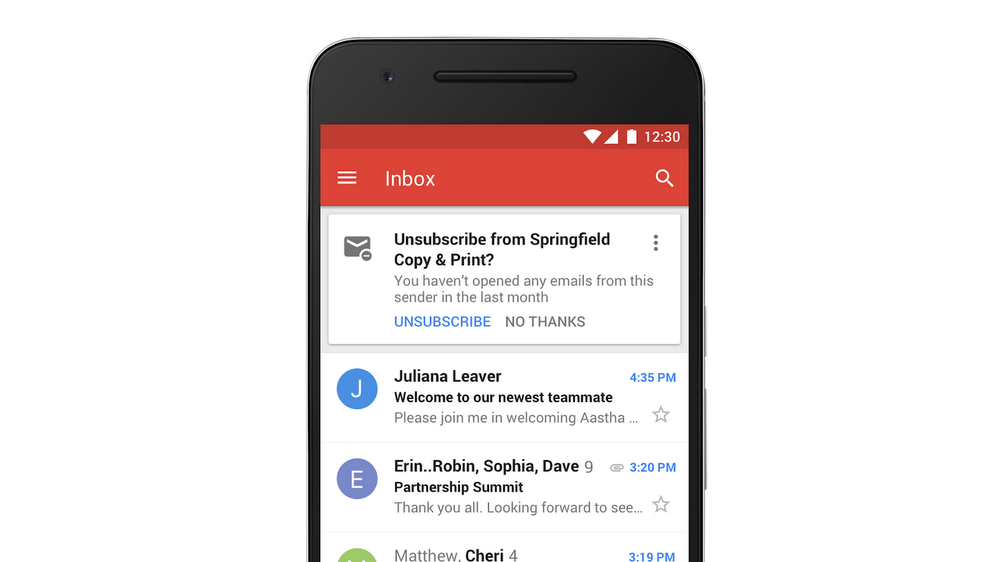 (Source: The Keyword)
"Using intelligence, unsubscribe suggestions appear based on cues like how many emails you get from a sender and how many of them you actually read." (The Keyword)
The new unsubscribe notification taps into a system already used across the Gmail web app which allows users to unsubscribe from emailing lists via a single click. This means that the recipients of your campaigns may not unsubscribe directly via the best practice links in your campaign, instead favouring the button provided by Gmail.
The challenge for email marketers is to design campaigns in such a way that recipients will engage with content that is relevant to their interests and preferences thus reducing the likelihood of them unsubscribing from your campaigns.
High-Priority Notification
Another new feature, although only available on the Gmail app for Android, will help users prioritise their inbox content. Now, we all know that Gmail comes with a number of inbox configurations out of the box; allowing you to specify how you want to process your emails – most popular options being Priority Inbox and Category Sorting.
The Android app update brings in new ways to receive notifications about your incoming emails, giving you the option to limit your notifications to messages that are deemed as "important" by Gmail whilst quietly filing all other emails away in the background – keeping distractions to a minimum.
This gives users the ability to specify which emails they want to be notified of receiving thus potentially causing changes in open times of email campaigns; personal emails are more likely to be prioritised compared to subscription newsletters and other campaigns.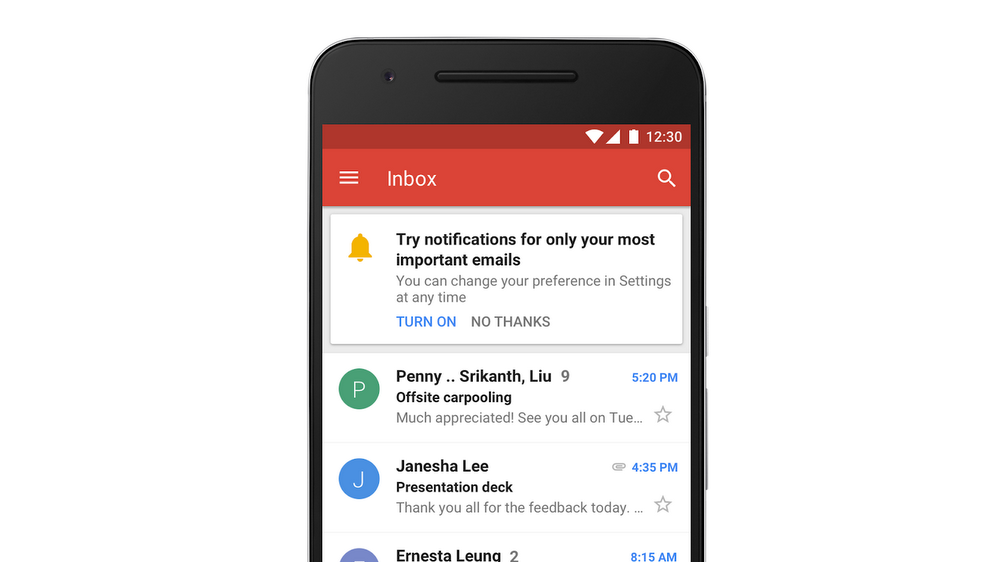 (Source: The Keyword)
The above two are updates that are likely to have the greatest effect on email marketers. Below we have outlined some other low-impact updates.
Snooze
Don't have time to read this email? Want to be reminded about it later? No problem. You might have seen this feature in the experimental "Inbox by Gmail" app, but it is now rolling out to all Gmail users across the web and mobile platforms.
Gmail users can now "snooze" emails for later perusal. Snoozing a message effectively hides it from the inbox until a time when the user wants to see the message again. This means that recipients of email campaigns have the option to view and interact with these campaigns later. We can see how this new "remind me later" feature can come in handy for people with busy inboxes, but this can also mean delays in open rates for email marketers.
Nudges
Another innovative feature added to this Gmail update is the option to be "nudged" about messages you haven't interacted with in a while. These non-invasive reminders are designed to draw your attention to unactioned emails still residing in your inbox.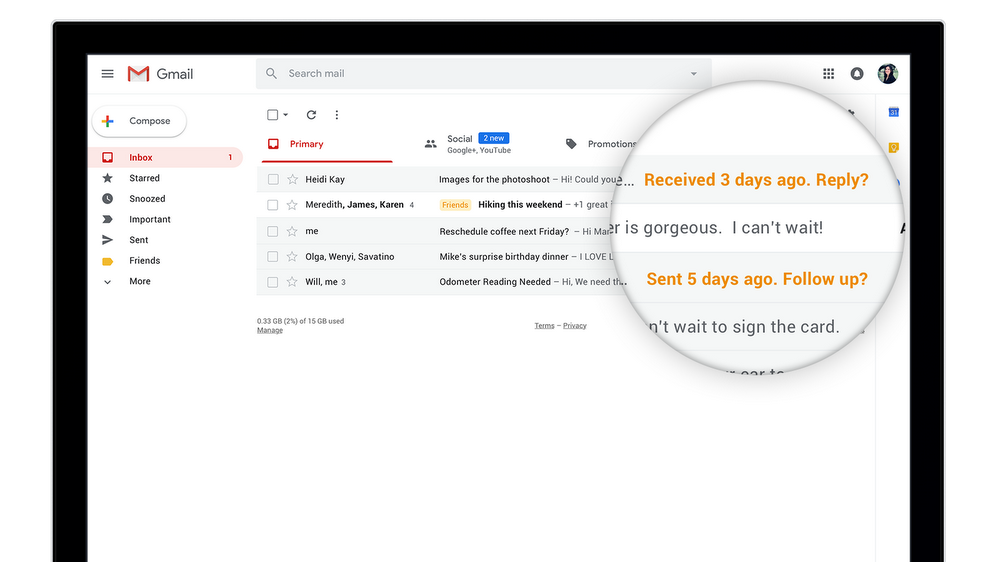 (Source: The Keyword)
"Gmail will also 'nudge' you to follow up and respond to messages with quick reminders that appear next to your email messages to help make sure nothing slips through the cracks." (The Keyword)
Security
Google takes phishing and spam so seriously that it warranted a new redesign of the warning messages that show up above suspicious emails. Google has made the warnings much more prominent and provides users with a simple call-to-action button to delete suspicious messages. This will not have any adverse effects on legitimate email marketers sending genuine content.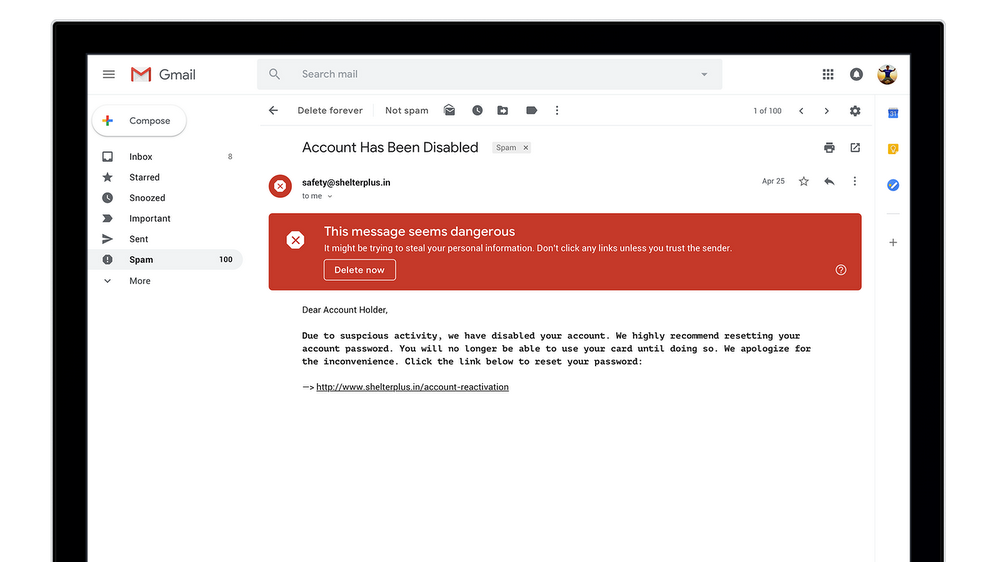 (Source: The Keyword)
Email Autopilot?
One of the most exciting announcements coming from Google I/O this year was the introduction of "Smart Compose" in Gmail. Any email geek will be excited to hear that Google is implementing machine learning to provide smart email "autocomplete" suggestions that can type entire emails for you!
This exciting feature is the first of its kind in email, an upgrade to its Smart Reply. The new tool can write an email from the greeting line all the way down to your sign off based on your personalised writing style sampled from your previous correspondence.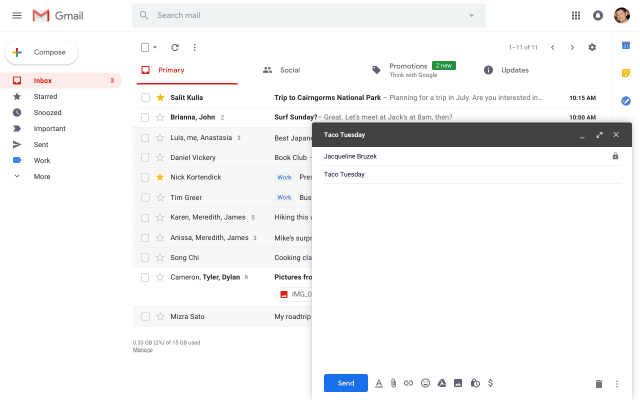 (Source: The Keyword)