Overview
Customer Relationship Management (CRM) is a strategy employed by businesses for managing relationships and engagement with current customers and prospects. Subscriber data is at the centre of your marketing activities which makes CRM the best solution to store this data including names, email addresses and preferences.
Microsoft Dynamics CRM is a customer relationship management application developed by Microsoft focusing on three main sectors: Sales, Marketing and Service.
How It Works
The Campaignmaster Dynamics Integration provides a straight-forward and easy-to-use workflow which follows a simple left-to-right tabular structure. This enables you to efficiently go from creating a campaign to launching it.

Six Steps to Automating Your Processes Using Our Microsoft Dynamics Integration:
Create a marketing list using contacts from Dynamics CRM
Create a campaign, select an email template and a marketing list
Edit the email template directly within Dynamics CRM
Test the campaign to different email addresses and clients
Launch the campaign to the marketing list
Review campaign results and statistics including opens, clicks and forwards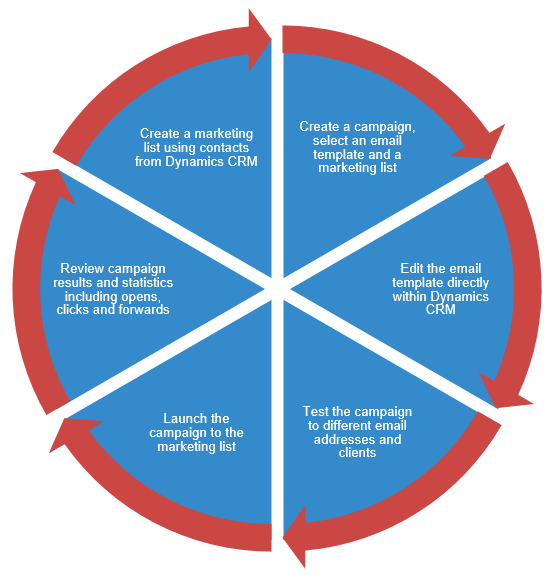 Reasons to Integrate Your Dynamics CRM with the Campaignmaster Platform
Our Dynamics CRM Integration offers endless benefits from two-way data synchronisation to campaign statistics and reporting right inside the Dynamics CRM interface.
Automatic Subscriber Data Uploads
Integrate your Dynamics CRM with the CM platform and save time by eliminating the need to import/export data using Excel CSV files.
Two-Way Data Synchronisation
Our Dynamics CRM integration synchronises both to and from the Campaignmaster platform which lets you choose how you want to access your data.
Data Is Always Fresh and Up-To-Date
The 2-way data synchronisation ensures that data is up-to-date in both Dynamics CRM and the Campaignmaster platform.
Edit Templates Directly from Dynamics CRM
Edit the graphics and content in your template efficiently from within Dynamics CRM.
Fully Test and Launch Campaigns 
Our integration allows you to fully test your campaigns and launch them. Don't want to launch immediately? You can also schedule your campaigns within clicks.
Analyse Real-Time Campaign Reporting Within Dynamics CRM 
Make business decisions driven by your email marketing results.
Track Opens, Clicks and Forwards 
Capture campaign behavioural information and use it to target your future campaigns, straight from Dynamics CRM.
Create Email Marketing-Based Dashboards Within Dynamics CRM
Create dashboards based on reporting in order to visually analyse your email marketing results.
Improve Your Sales Visibility and Access Real-Time Insight into Customer Behaviour 
Increase your pipeline visibility and discover how your processes impact your customers' behaviour.
Automate Your Email Marketing Activities 
The seamless workflow provided by our integration will save you time and help you get things done efficiently.
Targeted Campaigns
Campaign behavioural information such as opens and clicks captured from previous campaigns allows your future campaigns to be more targeted.
Easy Multi-Channel Unsubscribes 
Define different types of communications and provide your recipients with the ability to unsubscribe from one or more specific type(s) rather than all communications.
Access Everything You Need in One Central Place 
Avoid the hassle of switching between different systems by using our Dynamics CRM Integration.
If you want to find out more or have any questions, please click here and one of our experienced reps can take you through a demo and answer your questions.
Furthermore, you can also find out more information on our CRM Synchronisation & CRM Integration Applications pages.