The Holy Grail of email marketing is undoubtedly, deliverability. If you are not getting through to your recipients inbox your beautiful designs and lifesaving offers are all pointless.
There are various factors that influence the deliverability of your communications and the inane number of spam institutes and blacklisting organisations out there can make you feel overwhelmed.
Don't worry though, our deliverability experts are available to help you navigate your way through the confusion. Earlier in the year we published an infographic about email marketing deliverability and shared some industry secrets to ensure high rates of deliverability.
What makes things difficult is, each email client has its own way of dealing with spam. One of the most popular providers out there is Microsoft, covering a large portion of both B2B and B2C recipients with Outlook desktop, Outlook.com and more recently Office365.
Their intelligent filtering systems allow or block emails for many of the standard factors including the reputation of the sending IP, the format of the email etc.
With the introduction of Office365 they are also factoring in recipient preferences and settings. As Gmail introduced promotions, social tabs etc. Microsoft have come out with their own version, i.e. 'focused' and 'other'.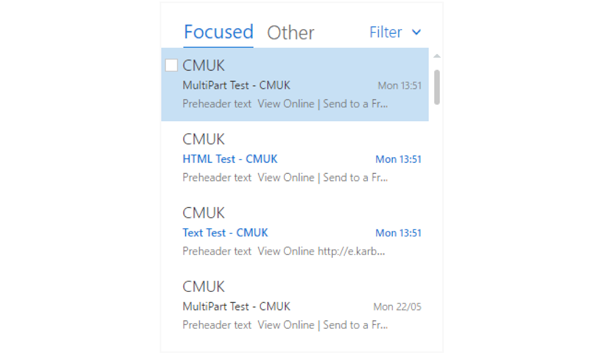 Important emails and emails a recipient interacts with land into the 'Focused' tab, which is visible immediately upon login.
That is the section you want to aim for as 'Other' is an archive of emails that Microsoft has deemed as 'unimportant' or bulk.
Recipients can customise their settings and define what they deem 'important' or 'unimportant'. So there are a number of variables that determine your deliverability to Microsoft email addresses and you can't accommodate for everyone.
However, we would like to share with you the advice Microsoft have provided to our deliverability experts to improve your changes of, one reaching an inbox and two actually landing in the focused tab. More importantly, following this guidance can reduce your chances of being blocked by Microsoft.
Proactive Data Management:
Keep your database up to date. Performing regular data cleansing exercises by removing 'non-engagers' can help keep your open rates up and improve your reputation with Microsoft. Perhaps conduct re-engagements campaigns for non-engagers and remove recipients that fail to interact over a certain period of time.
Remove recipients who mark your email as 'junk'. Don't worry CMAdvantage users, we are doing this for you!
Ensure you include any easy to see and use unsubscribe option that is actioned immediately. When a recipient can't unsubscribe they put your emails in a junk folder, increasing your complaint rate and leading to blocks and blacklists.
Encourage recipients to add you to their safe sender in Outlook.com options.
Include a message at the top of your email along the lines of – 'to continue receiving our emails in your inbox please add abc@123.com to your address book'.
Correctly Formatting Your Campaigns
Ensure your campaign's from name, address and/or subject line clearly identify the sender. This will ensure your recipients are aware they requested the email. Personalising the from names with the recipients contact at the firm will be a good way to ensure the recipient recognises the sender.
Avoid wording that can come across as 'spammy', such as 'action immediately' or 'must buy today' etc.
When gathering data, don't just ask for email addresses. Gather user preferences so you know what type of emails they want to receive. The more you tailor your content the less likely you are to get complaints.
Review your complaint rates and consistently look to improve your campaigns responding to recipient needs.
So there is no proven science of getting through to Microsoft or indeed other email clients but the above is likely to improve your chances of hitting an inbox and not getting blocked or blacklisted.
We pride ourselves on deliverability and here is how we help how our clients achieve what has been outlined above: