When it comes to designing and building your email campaigns, you undoubtedly spend the majority of the time thinking about the body of the email and what you want the main message to convey – and rightly so.
However, it's important to take time and focus energy on the other key, structural component of your email that may often get brushed over. That's right, we're talking about your footer.
Email footers may not be the first element you consider when building emails, but they are an essential component that shouldn't be put together without thought. Don't forget – if a recipient has scrolled through your email, your footer is going to be what forms their last impression of your company.
In this blog, we're going to explore the importance of a good email footer and what elements you should be including in yours, to make your footer work that much harder.
What is an Email Footer?
First things first, what exactly is an email footer? The footer of an email is located right at the bottom or end of your email, after all of your body content.
Why do Email Footers matter?
Email footers ensure your email is complete, displaying a common brand theme from head to toe. Think about when you receive an email and want to find out the company's contact information, where do you go to check? That's right – the footer!
Email footers help to improve the quality of interaction with your recipients and ultimately shape their final impressions of your email campaign. Essentially, email footers give you the ability to connect with your recipients. From a design perspective, including an email footer also shows you have carefully designed your campaign and have taken into consideration the consistency between the content you send out – every email will be coherent with the same footer, establishing a common brand theme with your recipients that is easily recognisable.
What should be included in my Email Footer?
So now you're convinced to add a footer to your email campaigns, the next step is determining what information should be included.
Let's break this information down into two categories; required and optional.
Required Elements
Email postmasters state that unsubscribe links, preference centres and mailing addresses should always be included in your email campaigns. Without these elements, your campaigns are very likely to end up in the dreaded Junk folder. As time has gone on, it has become common practise to place these in the footer of your email. Therefore, to avoid confusion on your recipient's behalf, we suggest you place these elements here.
Unsubscribe Link
Not including a clear unsubscribe link in your email campaigns violates the GDPR regulation, so you should not exclude this option (unless it's a service email). The best solution? Stick the unsubscribe link in your footer. Incorporate the same footer into your templates, so you'll never leave it out.
Preference Centres
Similar to the above point, it's important to provide your recipients with the ability to update their mailing preferences with each campaign you send to them. Naturally, it makes sense to put this alongside your unsubscribe link. If anything, it may even encourage subscribers to opt down, rather than opting out of your emails altogether.
Legal Disclaimers
If industry regulations state legal disclaimers must be included in your email campaign or to comply with anti-spam government regulations, information such as your company privacy policy should be included in your email campaigns. What better place to put them than in your footer? Here, they are out of the way, but are also easily accessible.
Optional Elements
Contact Information
Even though you contact information is on your website, having it in your email campaigns provides an extra level of ease to your subscribers. Although not required, we strongly recommend you include your company contact information in the footer of your email. This includes the registered address, best mailing contact address and a link to your website.
Social Proof
In marketing, social proof refers to content that displays evidence of other people having purchased and found value in a product or service offered by a business. A good example of this could be a snapshot of a Trustpilot review. Including this in your footer could encourage the up and cross selling of your products/services. It could also leave a good last impression to your readers as the footer is generally the final portion of the email viewed by subscribers.
Social Media Links
Including social media links in your footer is a fantastic way to connect to your subscribers on multiple mediums, growing your online presence. From a design perspective, majority of footer content is plain text – having some social media icons can break this up and provide your subscribers with some nice, visual cues.
Whitelisting Information
Take some footer space and use it to your advantage – why not ask readers to add you to their safe senders list to avoid your email landing in the Junk folder. This will aid in your overall campaign engagement and deliverability. Usually, this information is at the top of a campaign, but use the footer space to reiterate the message. Not too sure how to word this? Why not try one of the below:

1. Don't want to miss out on our emails? Add us to your address book.
2. To make sure more great deals land in your inbox, add us to your address book.
3. Never miss another update by adding us to your address book.
Best Practise Links
Why not switch up your email designs and include a Forward to a Friend or Web Version link in your footer, saving some valuable body content space. Learn more about the value of best practise links here.
Thank You Message
We understand email campaigns can sometimes be hard to 'humanise' based on their content. However, one great way you can achieve this is by adding a simple thank you message in the footer of your email. This expresses gratitude and humanises your brand. Another great way of adding a personal touch to your footer could be by including a hand-scribbled email signature.
Company Branding
Including your company name, logo, tagline etc in your footer can help tie the whole email campaign together as it makes it coherent; there is a clear theme running throughout your email. This means even if you switch up your usual body content or even the From Name, subscribers will still be able to resonate with you brand due to familiarity of the footer.
Examples:
Let's take a look at some footer examples:
Example 1:
The focal point of this footer is connecting to recipients via social media, but you'll notice key elements such as whitelisting information and an unsubscribe link have been subtly added: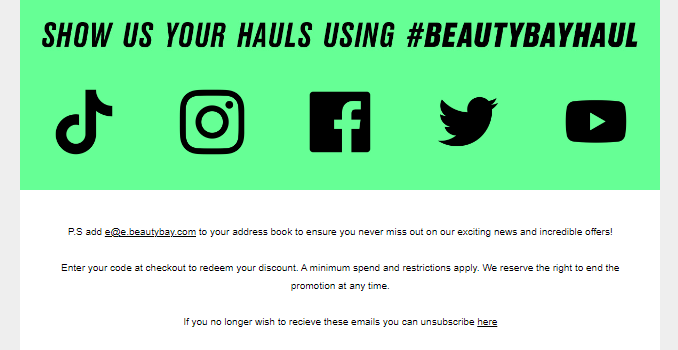 Example 2:
Simplistic and to the point – this footer contains all the necessary information (including legal terms and conditions) whilst blending in nicely with the overall theme of the main campaign body:

Example 3:
Taking the longer approach, this store has included all required elements and then some! Notice the prompt to download the app: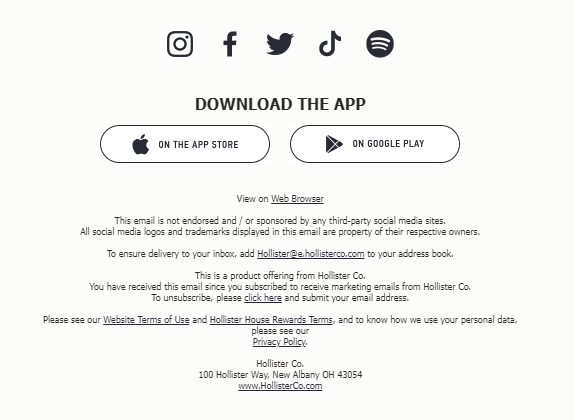 Example 4:
Imagery not your thing? Why not follow this example where plain text is unlisted to clearly show all important information, not taking away from the main campaign content:

Example 5:
Subtle design elements here make this footer super effective – a logo has been included with all important links being the same colour to stand out: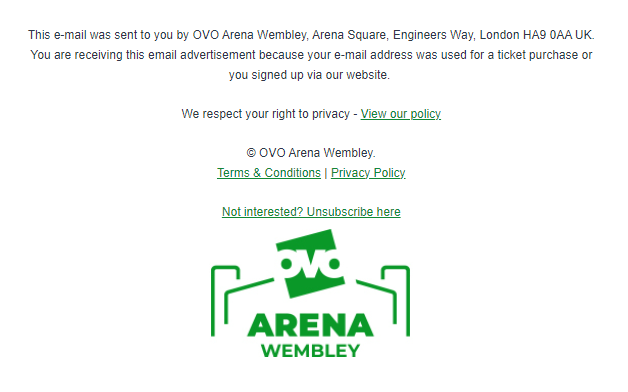 Example 6:
We can't show you examples without including our very own footer – designed to contain all the key information without taking away from the rest of the campaign. Note how the blue contact button has been made to stand out against the black background:

Email footers are just one component of a successful email campaign, but never one that should be forgotten or overlooked. We hope this blog has provided you with some valuable information and handy tips that you can deploy when creating or updating your email footers.
In our email marketing platform, you're able to create and fully customise email footers, tailoring the colours, fonts, content and so much more. Did we also mention you can lock these to prevent specific users from editing all your hard work?
Get in touch today if you'd like some more information or help creating your ideal footer. Email info@campaignmaster.co.uk or call us on + (0) 44 208 863 5334.