We've been digging around in the latest version of Mail for iOS 7; It's been the recipient of a lush visual overhaul and a few feature tweaks, but don't panic. It's still the same app we all know and love to code for.
As we noted at our In:box event a few weeks back, Mail for the iPhone is the most popular email client in the world. So, when Apple unveiled a new version of Mail at their latest developer conference, we couldn't wait to get our hands on it.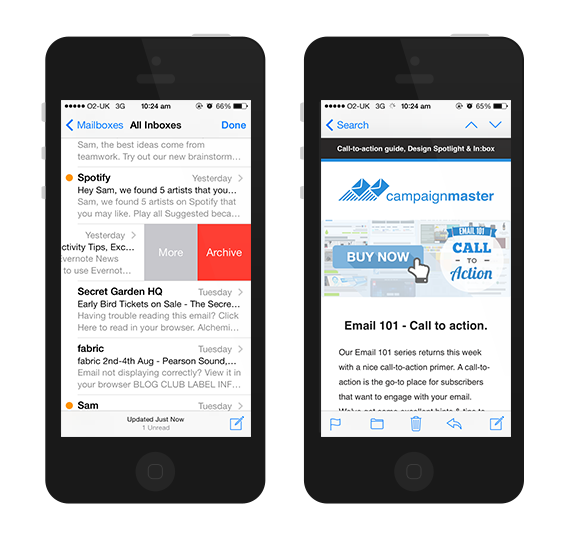 Historically, Mail for iOS is among the best email clients out there in terms of HTML and CSS support. This, combined with it being the world's No.1, made us a bit anxious about its future. Thankfully, everything appears to be in good hands.
We've been kicking the tyres on an early beta release (Beta 4), and with regard to HTML and CSS rendering, it's still the same Mail you're used to.
We'd heard some early reports of margins being placed on either side of email campaigns, but it's not something we were able to reproduce. I imagine this has since been removed in the latest beta update.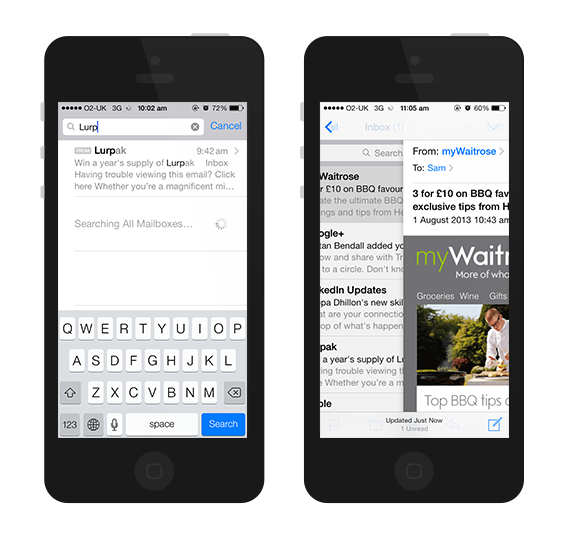 Feature-wise there are a couple of cool new additions. Gesture menus do away with most of the icons from the bottom navigation bar in favour of a hidden swipe menu on each message. Searching has also received an upgrade, and now highlights your search term in corresponding results. Another nifty feature is the ability to navigate back a screen by doing a right-to-left swipe.
While some hardcore email users may have been looking for an enhanced experience for managing their email (Mailbox, Sparrow etc…), the simple and intuitive core functionality of Mail is more than enough for causal users.
It's worth mentioning that as beta software, all of this is subject to change before the final release, due in September. But our bet is that there shouldn't be any significant changes between now and then. If anything does happen, we'll be sure to let you know (and eat our own hat in the process).
HTML & CSS support continues to be up there with the best of them, and in this respect, no news is good news! The last thing we'd want to see is another email client to support with it's own unique quirks and workarounds. Thankfully, Apple have not disappointed.