Marketers will continually look at ways to engage audiences and video in email is a great way to draw attention to your content. It raises interest levels and presents information in a summarised, engaging way. Email marketing is still the most effective communication channel, so combined with great video content you have a winning combination.
We wrote a great blog with technical insight into how to insert and embed video into email, but in this blog we talk about its continued growth.
Firstly, did you know that over 6 billion hours of video are watched every month on YouTube? If this doesn't convince you to use video in your content, then check out these stats to see how video can uplift email engagement significantly:
55% increase in click through rates
41% more emails were shared and forwarded
44% more time spent reading emails
Conversation rates were boosted by 24%
Using the word "video" in email subject lines increased open rates by 19%, click through rates by 65% and even reduced unsubscribe rates by 26%
65% of video viewers watch more than ¾ of a video
33% of tablet owners watch one hour of video  per day on their device
Analysis also shows that the shorter the video, the more engagement you will have. Not surprising as the average human attention span has dwindled down to a tiny 8 seconds! Luckily for us email marketers the average time consumers tend to spend looking at an email once opened is longer at about 15 seconds, so we suggest you keep your content short and to the point.
Video in email also makes for good subject line testing. The inclusion of the word "Video" in your subject line will show whether the presence of video in your email actually influences your subscribers to open the email or not.
However, despite its growth there are some email clients that still don't support video in email and these are Gmail, Outlook & Yahoo.
But the email clients that do support this are iOS devices, Apple Mail, Outlook.com and Thunderbird 13.
Android and Blackberry9930 neither show a fall back image nor play a video.
Litmus constantly monitor opens across different devices, (see graphic below), and as of 1st March 2016, 5 out of the top 10 email clients support video in email and 3 of these are in the top 5.  Campaignmaster's integration with Litmus will give you further, detailed analytics on your email impressions, so you can see what inboxes your susbcribers are opening their emails in.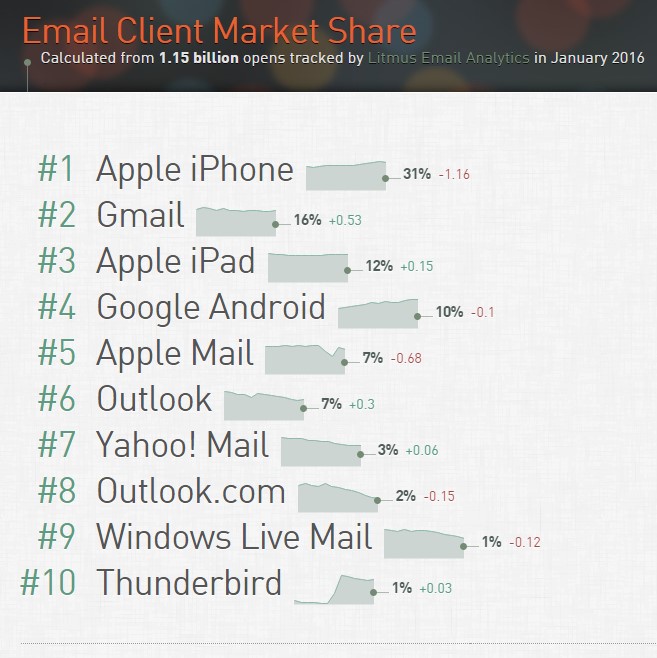 If you want to include video content but your users fall outside of the 5 top email clients, then you could consider an Image Carousel instead.  An example can be found on our
homepage
.
Unlike video, it requires less support and involves a lot more coding, but this could be an alternative to video if you are looking for something that is isn't just flat and also doesn't require a play trigger button.
TOP TIP!
Don't forget to include a call to action when the video ends.